Kiting in Florianópolis
For my Master's degree I had the chance to go abroad and do research at a foreign university for four months. Obviously, this wasn't going to be some in-land university far from the sea, so I picked Florianópolis which is a nice island along the coast of southern Brazil. They have a great university, stunning scenery, and lots of wind. Perfect!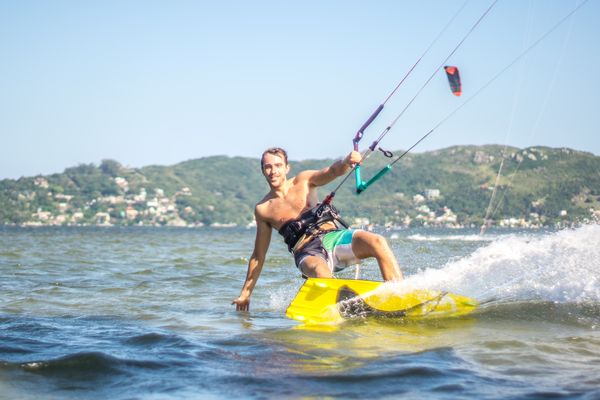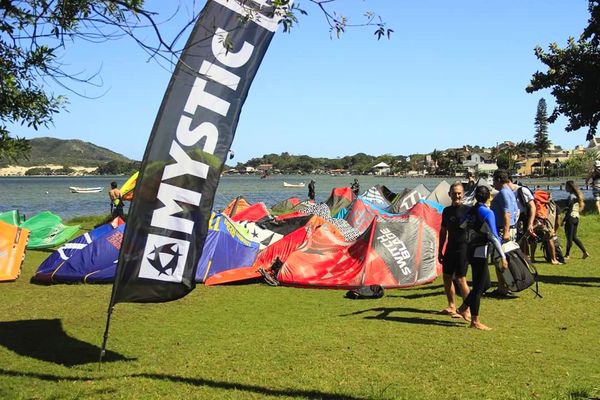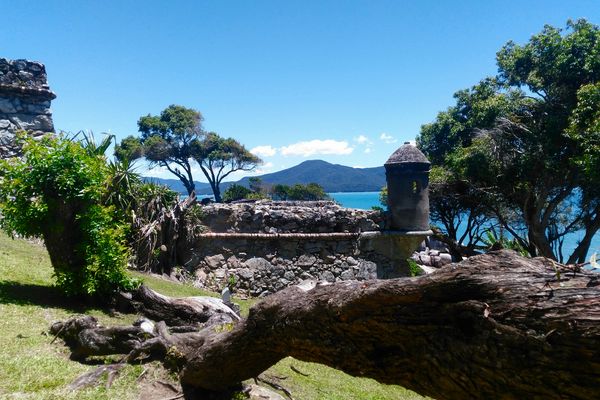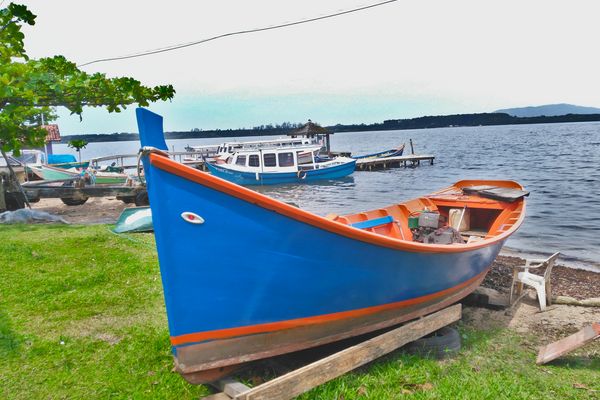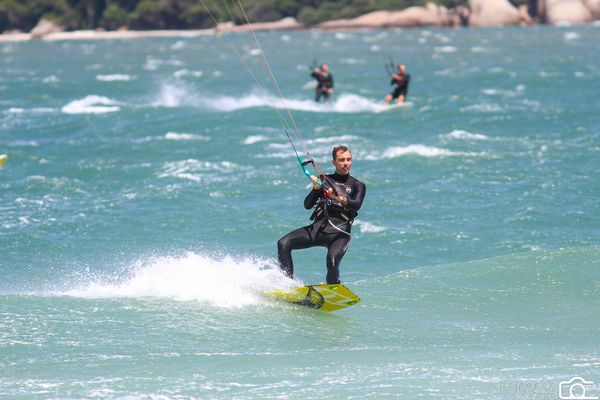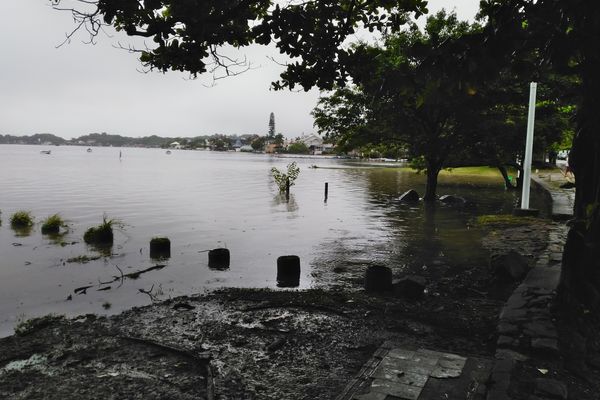 Location
While Florianópolis is the name of the island, it is also the name of the city just across the bridge, and the villages on the island are its neighbourhoods. Lagoa da Conceiçao is a neighbourhood at the biggest lake on the island and is the centre of tourism with lots to do. Along the Avenida das Rendeiras next to the lake there are many restaurants and nightlife clubs located, as well as dune surfing and watersports. Avenida das Rendeiras is known for the worst traffic during summer, taking up to three hours to get to the beaches so be advised. Popular beach options include Campeche, Joaquina, Mole (beautiful!) and Barra da Lagoa.
There's a couple of hikes I'd recommend. A tough but fantastic hike is at Lagoinha do Leste, a secluded beach at the south east of the island that has a marvelous view and pristine water. Optionally you can take the boat taxi back, so bring cash. Another hike is at the south most point and brings you to an old defence point. Great beach with a small hamlet that lives without power (!). Be careful of the snakes up where the old canons are though.
Although there are monkeys called Saguí, they can be hard to spot. I've seen a bunch while walking from Lagoa da Conceiçao north along the lake, it's an easy trail that leads to some isolated fishing villages with an easy and cheap ride back by boat for R$10. The fish is great but expensive. If you want to eat cheap food I highly recommend you to go to a buffet livre, which is all-you-can-eat with rice, beans and vegetables and salads for about R$20–R$30.
If you have time, go to Guarda do Embaú. It's a great beach on the mainland and if you're lucky you can spot some rare whales!
Accomodation
Look for Submarino Hostel it's right at the lake and perfect to wake up and kite. It's an easy-going and friendly hostel run by Giulio and Paula, who do a great job and are very helpful; I had a splendid time there! There's a couple of other hostels in Lagoa as well as Airbnbs. If you want to live at the beach, look for accomodation in Rio Tavares or Campeche.
Wind
The island is known for its rapidly changing weather. It usually has sun around noon, but thunderstorms in the evening. The forecasts seem to be right about half of the time, usually the rain forecast turns out to be not as bad on the island itself. Be cautious with the wind, because in one day the wind can change direction three times!
In general there are two good winds that blow over the island, the north and the south wind. The south wind is usually strong and gusty and makes for a chilly day. The north wind is more constant and warmer. The best wind is from September to January† where I've been mostly kiting with my 12 m2 and 9.5 m2. West and east winds are rare and usually fairly weak.
Spots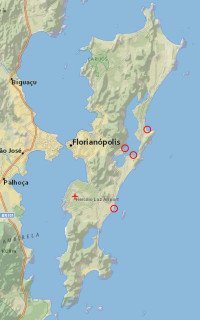 Right across from the Windcenter is my favorite spot with a great community of other kitesurfers and windsurfers, see fig. 1. I've kited here most of the time and met a lot of great people there; make sure to get yourself some acaí here! Another popular (flat water) spot is at GoKite nearby. These spots are good for N-NE winds, but very gusty with south winds.
At Avenida das Rendeiras, the road along the lake, you can go kiting with a NW-NE wind and most people seem to set up around a kite repair shop called Ventuus. Not possible with a south wind.
Sea spots include Barra da Lagoa, which is great with N-NE. However, I prefer the spot at Campeche beach called Riozinho do Campeche which has parking, a good and cheap restaurant, and an automatic kitepump. This spot is great on a south wind and you can kite all the way to the island. Great waves too!
Another popular spot which I wasn't able to visit during my time, is Ibiraquera with apparently really good wave conditions.
Security
While Brazil has a reputation for being violent and dangerous, this is not so much true for the richer part of Brazil in the south. While you have to be cautious with your belongings, the island is pretty save and there is little to worry about. That said, surf boards and kite gear are known to be valuable so don't leave your stuff unattended on the spot! There have been a few cases of car break-ins as well, so keep your stuff secure.